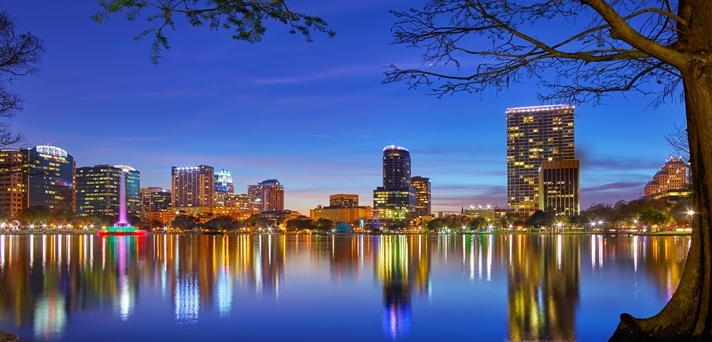 18 Fun Facts about Orlando, Florida 
Thanks to having sunny weather year-round, a high quality of life and major attractions, Orlando is a well-known city. Despite its status as a recognizable city, there are many features about Orlando that aren't well known. Take a look at our list of 15 fun facts about the City Beautiful!
1. Four origin stories for how Orlando got its name exist but there's no official documentation on it, and a conclusion has still yet to be reached.
2. Orlando has plenty of waterfront property because it is home to more than 100 lakes.
3. Lake Eola is actually a giant sinkhole, the deepest point is 80 feet.
4. Church Street Station, also known as the Old Orlando Railroad Depot, was built in 1889 and is listed on the National Register of Historic Places. SunRail now has a stop nearby.
5. The City has over 100 parks and 21 community center's offering athletics, camps and social programs.
6. The first highway in Central Florida was Colonial Drive and it was originally a paved brick road.
7. There are over 50 swans at Lake Eola, there are five different breeds – whooper, trumpeter, royal mute, Australian black and black neck.
8. Orlando was the original main hub of Florida's citrus industry after a disastrous freeze in the 1800s forced farmers to move their citrus crop south.
9. The fountain at Lake Eola's actual name is the "Linton E. Allen Memorial Fountain." The fountain is noted as the "official" symbol of the City of Orlando.
10. The Hamburger Mary's on Church Street downtown was once known as "Bumby Hardware Store" built by Joseph Bumby, an original pioneer and settler in Orlando.
11. More than 66.1 million people visited Orlando in 2015.
12. The largest public library building in the state of Florida is the Orlando Public Library with 290,000 square feet.
13. The Citrus Bowl was the site of five 1994 World Cup soccer matches and also hosted the 1996 Olympic soccer first and second rounds.
14. The Orlando Wetlands, located in east Orange County, is home to over 30 species of wildlife that are listed on the Florida Wildlife Conservation Commission's Threatened and Endangered Wildlife list.
15. In 1986, months before Orlando was awarded an NBA franchise, a contest was held in the Orlando Sentinel for readers to submit a pick for the name of the City's future basketball team and the finalists were the "Tropics," the "Juice," the "Heat" and the "Magic."
16. Orlando's City Hall has two free art galleries that are open to the public year round.
17. The Wells' Built Hotel located in Parramore was a historic hotel now turned into a museum of African American history. Famous celebrities who visited the hotel include B.B. King, Ray Charles, Thurgood Marshall, and Jackie Robinson.
18. The City of Orlando has had various nicknames over the course of the city's history, including City Phenomenal and City of Light. Orlando is currently known as The City Beautiful.
Orlando has a lot to offer and is a great city to move to. Learn more about recent listings and other perks of living in Orlando by contacting a knowledgeable and professional realtor here.